Tired of being bogged down by cables?
Wireless charging is the future, and we've got the perfect product for you. With this convertible 3-in-1 wireless charging station, you can charge your devices quickly and easily without any pesky cords getting in the way.
Plus, it comes in a stylish round design that will look great on any desk or nightstand.
Stop struggling with cords and plugs – this charging station has everything you need to get up and run quickly. You can even use it while your phone is in its case, so there's no need to remove it every time you want to charge up.
And with its edge-breathing light system, you'll always know when your device is charging properly.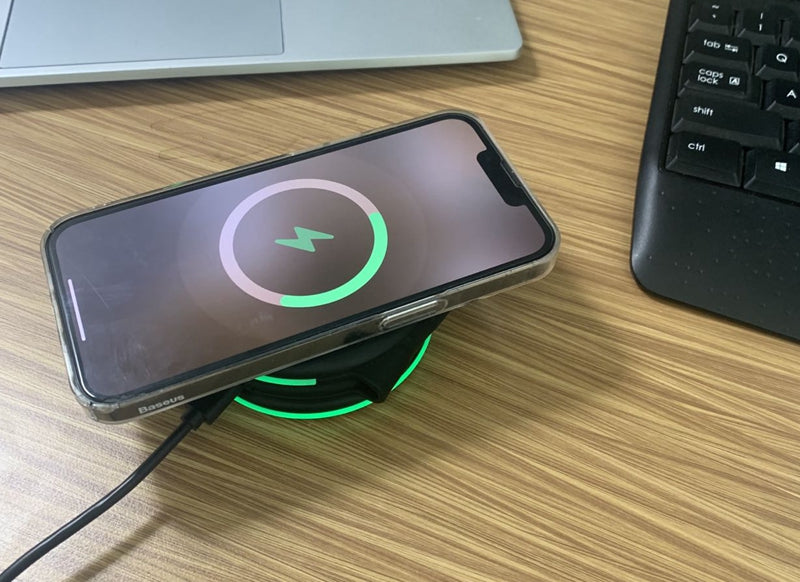 Purchase the Convertible 3-in-1 Wireless Charging Station today!
Best to Charge More than One Devices
If you own more than one Apple product, you are probably aware of how difficult it can be to keep all of them charged at the same time. You can simultaneously charge three different electronic gadgets with the Convertible 3-in-1 Wireless Charging Station!
This magnetic wireless charger is compatible with the iPhone 14 series, the iPhone Pro series, the iPhone Max series, the iPhone 13 series, the iPhone 12 series, the AirPods 3, 2, and Pro, and the Watch.
Charging Configurations
Because the fast wireless charger pads provide a variety of charging configurations, you may use your phone in either the triangle stand or the flat position while the batteries are charging on your desk, bedside, or while you are traveling.
In addition, the functionality guarantees that your devices always have a backup and are prepared to function normally. Why hold off, then? Get the Wireless Charging Station that Can Be Converted to Three Different Uses Today!
Qi Wireless Technology
The wireless charging station that can charge your iPhone, AirPods, and watch at the same time is called a 3-in-1 charging station.
It has a rapid Qi wireless charging power of 7.5W for iPhones or up to 15W for other smartphones, 5W for AirPods or other headphones, and 3.5W for Apple iWatch or other smartwatches. This charging power is compatible with any Qi-enabled electronic device.
Variety of Charging Cords
The fact that the Convertible 3-in-1 Wireless Charging Station comes with a charging connection that goes from USB A to C as well as a charging block that puts out 20W makes it the ideal substitute for Apple's Duo charger.
The Looks
The spherical, space-saving charging pads are not only attractive but also enable a folding transformation that is free of any conflicts. The edge breathing light not only displays whether or not the device is charged, but it also generates a cozy ambiance in the workplace or at home.
Take Away
The convertible 3-in-1 Wireless Charging Station is a must-have accessory for any home. With its fast wireless charging and multiple positions, it is perfect for a desk, nightstand or travel. The soft light indicates the charging status and creates a warm atmosphere in your office or home.
You will have everything at your disposal to keep your electronic devices fully charged and ready to go with this!